Quanta Cloud Technology (QCT) is a global datacenter solution provider. Powered by the latest 4th Gen Intel® Xeon® Scalable processor family, 32 DDR5 DIMM slots, the D74H-7U features the NVIDIA® HGX H100 and supports nonblocking GPUDirect RDMA and GPUDirect Storage.

A powerhouse acceleration server purpose built to tackle the most complex AI and HPC workloads.
Quick Deployment with Great Serviceability
The architecture is designed around a toolless modular philosophy. Major components can be removed from the system chassis without unmounting from the rack for better serviceability and increased system uptime.
The modularityin this innovative design allows for forward support of next generation CPUs and GPUs.
This server is optimized to accelerate training for massive data sets, huge AI models such as natural language processing, large language models, and supercomputing applications.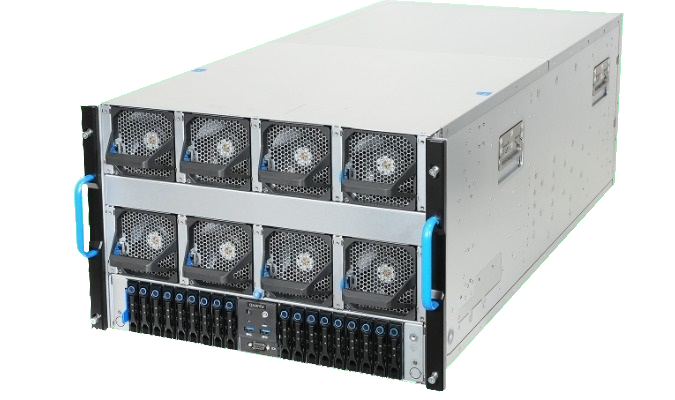 KEY FEATURES
⦿ 2x Top Bin Intel® Xeon® Sapphire Rapids processors
⦿ 18x SFF All-NVMe drive bays for GPUDirect storage and boot drive
⦿ 10x OCP NIC 3.0 TSFF for GPUDirect RDMA
⦿ 8x Hopper H100 SXM5 GPU modules with HGX baseboard
⦿ Tool-less, hot-swap designs for drive trays and fan modules
⦿ Easy service with OCP3.0 pull-tab & ejector without opening chassis