NVIDIA A2 Tensor Core GPU 16GB
The NVIDIA A2 Tensor Core GPU provides entry-level inference with low power, a small footprint, and high performance for NVIDIA AI at the edge. Featuring a low-profile PCIe Gen4 card and a low 40-60W configurable thermal design power (TDP) capability, the A2 brings versatile inference acceleration to any server for deployment at scale.

Specifications
GPU Features

NVIDIA A2 16GB


GPU Memory

16GB GDDR6


Memory bandwidth

200 GB/s

FP32 Tensor Core

9 TF | 18 TF¹

BFLOAT16 Tensor Core

18 TF | 36 TF¹

FP16 Tensor Core

18 TF | 36 TF¹

Peak INT8 Tensor Core

36 TOPS | 72 TOPS¹

Peak INT4 Tensor Core

72 TOPS | 144 TOPS¹

RT Core

10 RT Cores

Max thermal design
power (TDP)

40-60W (Configurable)

 

Interconnect

PCIe Gen4 x8


Form factor

1-slot, Low-Profile PCIe
¹ With sparsity
² Supported in future vGPU release
Versatile Entry-Level GPU
THIRD-GEN TENSOR CORES

The third-generation Tensor Cores in A2 support integer math,down to INT4, and floating point math, up to FP32, to deliver high AI training and inference performance. The NVIDIA Ampere architecture also supports TF32 and NVIDIA's automatic mixed precision (AMP) capabilities.
ROOT OF TRUST SECURITY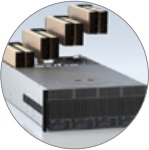 Providing security in edge deployments and end-points is critical for enterprise business operations. A2 optionally supports secure boot through trusted code authentication and hardened rollback protections to protect against malicious malware attacks.
SECOND-GEN RT CORES

A2 includes dedicated RT Cores for ray tracing that enable groundbreaking technologies at breakthrough speed. With up to 2X the throughput over the previous generation and the ability to concurrently run ray tracing with either shading or denoising capabilities.
TRANSCODING PERFORMANCE

Exponential growth in video applications demand real-time scalable performance, requiring the latest in hardware encode and decode capabilities. A2 GPUs use dedicated hardware to fully accelerate video decoding and encoding for the most popular codecs, including H.265, H.264, VP9, and AV1 decode.